Your wedding is one of the most important days of your life. One day, you'll be old and grey and still have a special way to remember your wedding—the pictures that were taken that day. Beach wedding pictures can be especially special, so it is important to find the perfect photographer for your destination wedding.
This guide will help you navigate choosing a destination wedding photographer and help you figure out exactly what you want.
5 Ways To Find the Right Destination Wedding Photographer
Choosing the right photographer may feel like a hard task. With so many options out there, how do you even begin to narrow it down? There are a few things you can consider in your hunt for the right photographer.
Style
Photography in many ways is an art form. Because it is so artistic and creative, you could have several different photographers attend the same wedding and get very different shots. This is mostly because of various kinds of styles.
When you begin looking for a destination wedding photographer, consider your personal style preference. Do you want an old, retro look? Perhaps you are going for candid and natural-style photos. Others prefer more styled pictures.
Whatever your personal preference, this is an important first step to consider when narrowing down your options.
Go Local
Many destination brides forget to look local for their photographer. Flying in a photographer from the US is not a bad option, but consider looking within a stone's toss for your wedding photographer. Locals will know the area very well and how to portray the beauty of the landscape and your wedding.
Social Media
In today's digital era, social media is a great place to look for your ideal destination wedding photographer. In many ways, social media has become a digital portfolio for many photographers, allowing them to showcase their style and availability. If you look here, you'll be able to find several answers to your questions right out of the gate.
Research
As simple as it sounds, simply researching, "beach wedding pictures" can bring you to the right photographer as well. Some photographers specialize in beach weddings and have websites accommodating that specific industry. If you spend some time researching, you'll be blown away by options you may not have otherwise discovered.
Recommendations
Typically, venues can have a list of preferred photographers who work alongside them, and it is always best to ask for recommendations from your wedding planner or venue coordinator.
Choosing Who To Hire
Now that you have your options, deciding on one wedding photographer doesn't have to be tricky. By looking at their portfolio, reviews, evaluating your budget, and having a conversation with your potential photographer—you can rest assured you've found the perfect photographer for you.
Portfolio
A photographer's portfolio is everything in helping you make a decision. It'll show you their style and give you an idea of the kind of wedding pictures you could have with them as your photographer.
Reviews
Reviews are a tell-tale sign of a photographer's work. If people have left great reviews, full steam ahead! Otherwise, this should ring alarm bells!
Budget
In planning your destination wedding, one of the biggest things you'll need to consult in every big decision is your budget.
Package Deal
Some photographers offer special package deals which can sway your decision. For example, you may be able to get a few free prints, an engagement shoot, or even albums included in the price!
Personal Connection
Every person is so different. That's why it's important to have a conversation with your potential destination wedding photographer to feel out if you'd be a good match. For the best beach wedding pictures, you'll need to be relaxed and comfortable around your photographer.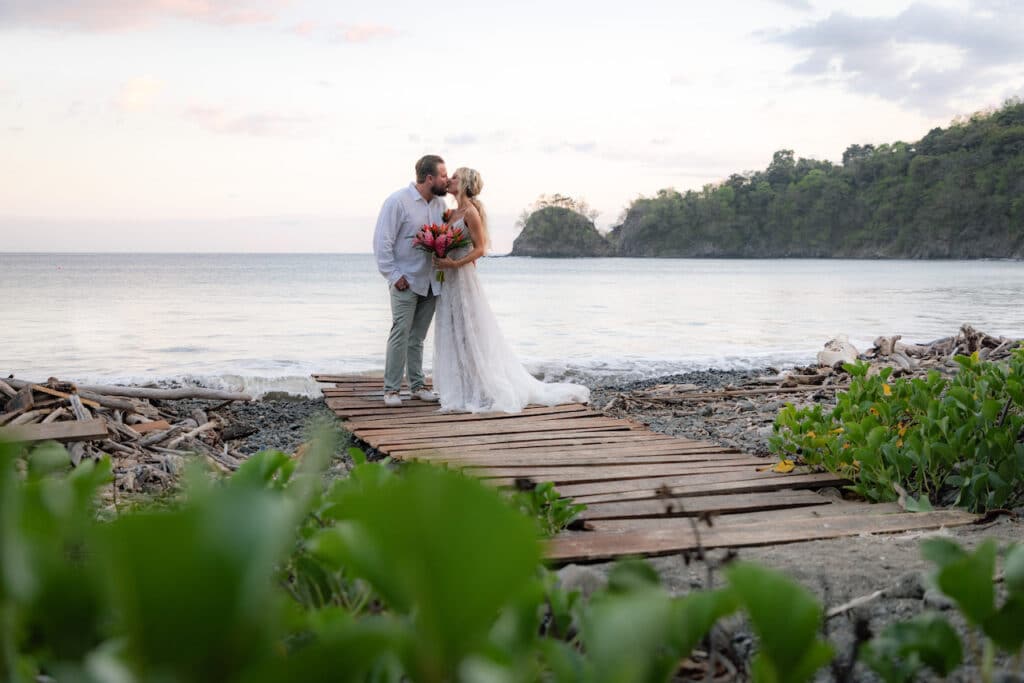 Destination Inspiration Is For You
At Destination Inspiration, we understand all the tasks on your plate as the bride-to-be. With destination wedding planning, we've got you covered! We can help you find the perfect photographer, venue, flowers, and everything in between.
Contact us today to get started and say au revoir to all your wedding stress!